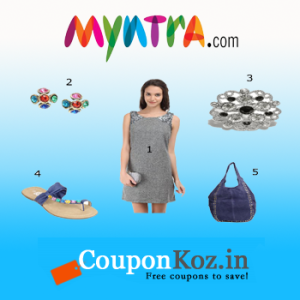 Fashion and lifestyle are two words around which the entire world takes its rounds. The two terms not only go hand in hand but speaks volumes about the latest society and culture currently prevailing all over. There is so much of hype about fashion wear and trend presently followed in newspapers, magazines, media, and every possible advertisement domain. There is one popular store with 100's of styles and brands myntra.com which stands tall in the world of fashion and life style.
The offers featured by myntra have got tremendous customer response for its invaluable variety and style. The fashion wear for men, women, and kids in various brands and trends are never to miss. The store features style videos of famous film and fashion personalities. Going for a party, or a date or an outing you don't have to ponder upon what to wear and what not to wear; just view the video for those simple suggestions by fashion vistas.
An individual do not have to worry about the fashion costumes which are only available at expensive prices. Perhaps here are awesome offers from myntra available at couponkoz.in.
1. Grab an additional 25% discount on minimal purchase of Rs.1999. Just click on the coupon and add the coupon code at the checkout page to get the discount. Offer is valid till 5th Feb so, Hurry up and let the offer not runaway.
2. Another awesome offer is get 55% off with additional 30% discount on purchases above Rs.2999
The validity of the coupon finishes on 5th Feb. So, hurry up to avail the offer.
3. Offer on Women's Ethnicwear – Get 60% off and no coupon code required to get the discount. Just click on the coupon and grab the discount. Offer valid till 5th Feb.
4. Get 50% off on Mens Bottomwear. Choose from various patterns, colors and styles displayed on the landing page. Very limited time offer so hurry up to grab one.
5. Benetton Flip Flops are available at about 55% off. Offer valid till 5th February, 2014.
Just get carried away by many such awesome offers with myntra coupons available at http://www.couponkoz.in/coupons/myntra.