Eid-ul-Fitr is the festival of breaking the month-long fasting ritual and marking the end of Ramadan. Namaz is offered to signify the conclusion of Ramadan. Muslims all over the world exchange wishes and gifts on this holy day. You can purchase gifts or gift cards for kids, friends and family to make them feel special this Ramzan, with exclusive Flipkart coupon codes.
Delhi
Being the capital city, Delhi becomes the biggest attraction during this time of festivity. In Old Delhi area, people gather to offer prayers in Jama Masjid, a popular Muslim heritage site wherein the area is beautifully decorated on this day. Jama Masjid is the first place in India to offer Namaz. Ramadan special Haleem is served at the famous Gali Kababian. The Old Delhi region is packed with devotees and vibrant crowd in colorful attire, who are enthusiastic about celebrating the holy extravaganza.
Hyderabad
Char Minar becomes the hub of Muslim celebrations during the holy month of Ramadan that ends glamorously with Eid. People from all age groups come here dressed in their finest clothing and gather to offer prayers and exchange wishes. Moreover, the Char Minar road turns into a shopping heaven on the eve of Eid-ul-Fitr.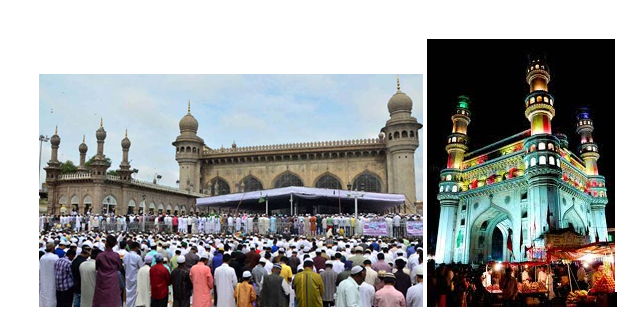 Mecca masjid near Charminar attracts huge crowd towards the end of the fast. It is one of the biggest heritage buildings of Hyderabad and can accommodate up to 10,000 worshipers. Devotees gather here to offer prayers, exchange wishes and share mouth-watering Sheer khurmas. Prayers are offered at others places as well, like Golconda Idgah, Secunderabad, Madannapet, Masab Tank and Alam Tank.
3.Taj Mahal, Agra
Thousands of people assemble to offer prayer in front of the red-sandstone Mosque/ Buland Darwaza in this massive historic property. The entry is free for the entire day. The Taj turns into a sparkling fair and so becomes one of the best places to celebrate Eid.
Haji Ali, Mumbai
Standing on the shores of the Arabian Sea with alluring beauty, it is one of the best locations for Eid celebrations. People without any religious discrimination can visit the Mosque which comprises of beautiful White minarets and dome.
Hazratbal, Srinagar
It houses the holy relic of Prophet Muhammad and is located on the banks of Dal lake. With a peaceful setting, it becomes the perfect place for offering prayers. Srinagar adorns a festive look on the eve of Eid, while the streets are flooded with people who shop the nearby local markets.
Lucknow
People here celebrate Eid at the biggest Aishbagh Eidgah & also at Asifi Masjid in Lucknawi style, where the spirit of the festival can be completely felt.
Masjid-e-Khadria, Bangaluru
This holy place is situated inside Quddus Saheb Eidgah, close to Bangaluru Cantt Railway station. It is one the popular places for celebrating Eid as it hosts several fun activities nearby.
Plan your trip to any of these cities to celebrate Eid with full zeal and zest with exclusive  Yatra travel offers.